2017 Lunar New Year at USCPAM: Year of the Rooster!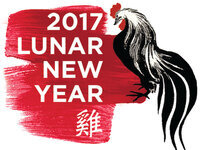 Lunar New Year is the most important event of the year in many Asian countries. Join USC PAM as we say goodbye to the year of the Monkey and say hello to the year of the Rooster!
Experience Lunar New Year celebrations in through performances including: Lion Dances, performances by Chinese delegation, Korean and Polynesian dance, live music and a special Year of the Rooster story time!
FREE & OPEN TO THE PUBLIC!

LOCATION:
Fuller Theological Seminary Courtyard
135 N Oakland Ave, Pasadena, CA 91101
(PLEASE NOTE, LOCATION ACROSS FROM USC PAM PARKING LOT)
Family friendly activities and food trucks!
PERFORMANCES:
11:00 - 11:45 a.m. - Northern Shaolim Kung Fu Association
11:45 - 12:30 p.m. - Chinese delegation (Hangzhou Sounds & Dance troupe)
1:15 - 1:45 p.m. - Polynesian Paradise Dancers
2:00 - 2:45 p.m. - Chinese delegation (Hangzhou Sounds & Dance troupe)
3:00 - 3:30 p.m. - Pasadena Symphony
3:30 - 4:00 p.m. - Jung Im Lee Korean Dance Academy
CRAFTS & ART ACTIVITIES:
11:00 AM - 5:00 PM
Anya Zeng - Calligraphy
Quan Trang, Barnsdall Arts - Rooster Puppet
Anita Du - Paper rooster
Raymond Mei - Paper lantern craft
12:30 PM - 3:00 PM
Pasadena Symphony & Pops - Musical instrument petting zoo
​​​​STORY TIME:
Plus, story time for kids to hear fabled Lunar New Year stories from cultures throughout Asia.